Go Your Own Way with Bike for Brussels Route Planner
Cycling is great, but it can also be frustrating, especially in a chaotic city such as Brussels. If you bike in Brussels, you probably know all about reckless drivers, getting your wheel stuck in tram lines and doing adrenaline-fueled manoeuvres because some careless driver decided to open the door just as you were passing. Also, why are there so many cobblestones in this city?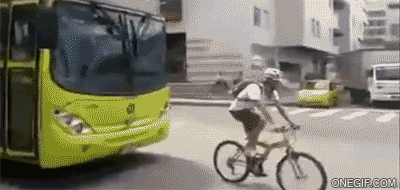 We don't know either, however, we did find another answer for frustrated cyclists in Brussels: The Bike for Brussels Route Planner. It's a simple answer, too: Just enter where you want to go and choose between four profiles, depending on your preferences: Fast, Balanced, Relaxed or Networks.
Yesterday, we had to do some shopping for the oSoc 2018 Demo Day, so I decided to take a Villo to the supermarket in the afternoon. Naturally, I used our Route Planner to check out the best way to go and documented my journey.
Field testing our route planner
After checking out my options, I decided to go with the relaxed profile, since I wanted to avoid the traffic on the big roads around Tour & Taxis and I thought it would be nice to bike in the park.
My route started on a track that is shared between pedestrians and cyclists.
The park was empty, I just passed two guys having a stroll – a relaxed ride so far!
Out of the park, the relaxed route guided me on a designated cycling way.
Arrived! I'm very happy with the results of my field test. I had a very calm ride, just what the relaxed profile should be all about!
But Google Maps works much better!
Well, yes and no. It is true that Google Maps is much more sophisticated than whatever we could build in 16 days, and its main advantage is that it has proper navigation. However, it does not really take into account cycling infrastructure, and the routes it proposes to bikers are therefore not ideal. Using Open Street Maps, we developed a solution that is tailored towards the needs of cyclists, and we believe that this is a compelling argument to use our app. If you don't believe me, check this:
Entering the same start and end point, Google maps offers two routes, both on rather big roads. It doesn't offer the route through the park since the small shared cycling way isn't even mapped!
Pro tip: If the geolocation marker in our app is not enough for you to navigate, and you want to use our routes in a proper navigation app: Just export the route and use it in any navigation app that allows importing .gpx files!